Improve Performance With Novum Cool™
When the latest generation of computers shattered records for the fastest processing speeds, things inevitably started to heat up. Novum Cool™ thermal paste was designed with one purpose in mind: to help by managing and dispersing that excess energy before it can do any real damage. This thermal interface material has been praised for its resistance and instant adhesion – just apply a small amount, and you're ready for action!
Novum Cool™ thermal paste will help your computer run cooler, which means faster processor speeds and an extended lifespan of your computer. Protect your investment and experience optimal performance when you use Novum Cool™ in your electronics.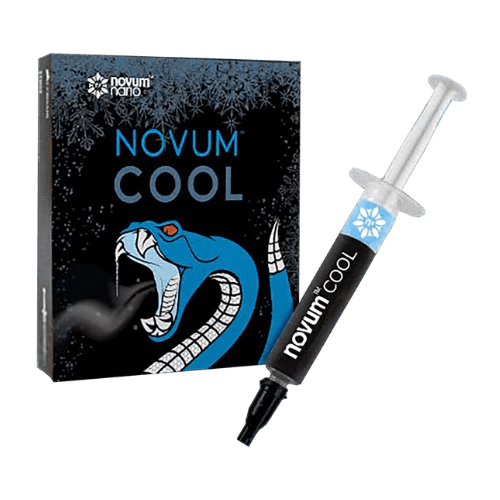 About Thermal Paste
Thermal paste products are applied between a computer's component that helps move heat away from a device, known as a heat sink, and the device it's meant to cool. Thermal pastes increase conductivity between the heatsink and the CPU. The heat sink disperses the extra heat produced by heat sources like the processor, away from the unit safely. Then, a fan or other cooling component pushes out the energy.

This thermal interface material can also be applied to other electronic parts to help the system maintain a safe temperature—better thermal management results in a considerable improvement in performance. Thermal pastes work to prevent overheating, which extends the lifespan of your device.
Thermal Paste Industry Use
Novum Cool™ can keep your electronic devices running cooler because of nanotube technology. By running cooler, your electronics will be able to run faster and will help to increase their longevity. Thermal paste is suited for use in home computers for gaming or streaming and has applications in professional settings for digital designing, programming, video editing, and more.